Keyword and geography targeted business lists
These Custom business lists are complied in house on-demand based on any keyword and location(s) you request! (Ex: Insurance Companies in Los Angeles CA) The data is gathered from hundreds of publicly available online resources such as Maps, Directories, social networks, and more. These are all compiled nicely into a single CSV file with one line per business (See data outputs below). Email addresses are then pulled from URL's associated with the business as well as other online resources.
These emails can be verified for delivery on request for additional fees. Call us directly at 714-786-5169 for info about your keywords!

Get A Custom Count and Pricing based on your Keywords and Geos!
Business List Details
Keyword and Geo specific based on request
Unlimited keyword and geo combinations
Built and updated on demand
Email Delivery verification available on demand
Multi-Sourced: Public Records, Google Maps, Social Media
Business Phones, Emails
Enhanced Option can pull contact info of business owners/employees
Data Outputs
– Keyword
– Business Name
– Business Address
– City
– State
– Zip
– Plus Code
– Website
– Phone
– Emails Address(s) – (Where Available)
– Facebook Page – (Where Available)
– Twitter Account – (Where Available)
– Instagram Account – (Where Available)
– Business Latitude/Longitude
– Google Business Rating (0-5)
– Hours of Operation
Enhanced Outputs
– First Name
– Last Name
– Title
– Linkedin Profile – (Where Available)
Example: "Real Estate Agent in Desert Hills Arizona"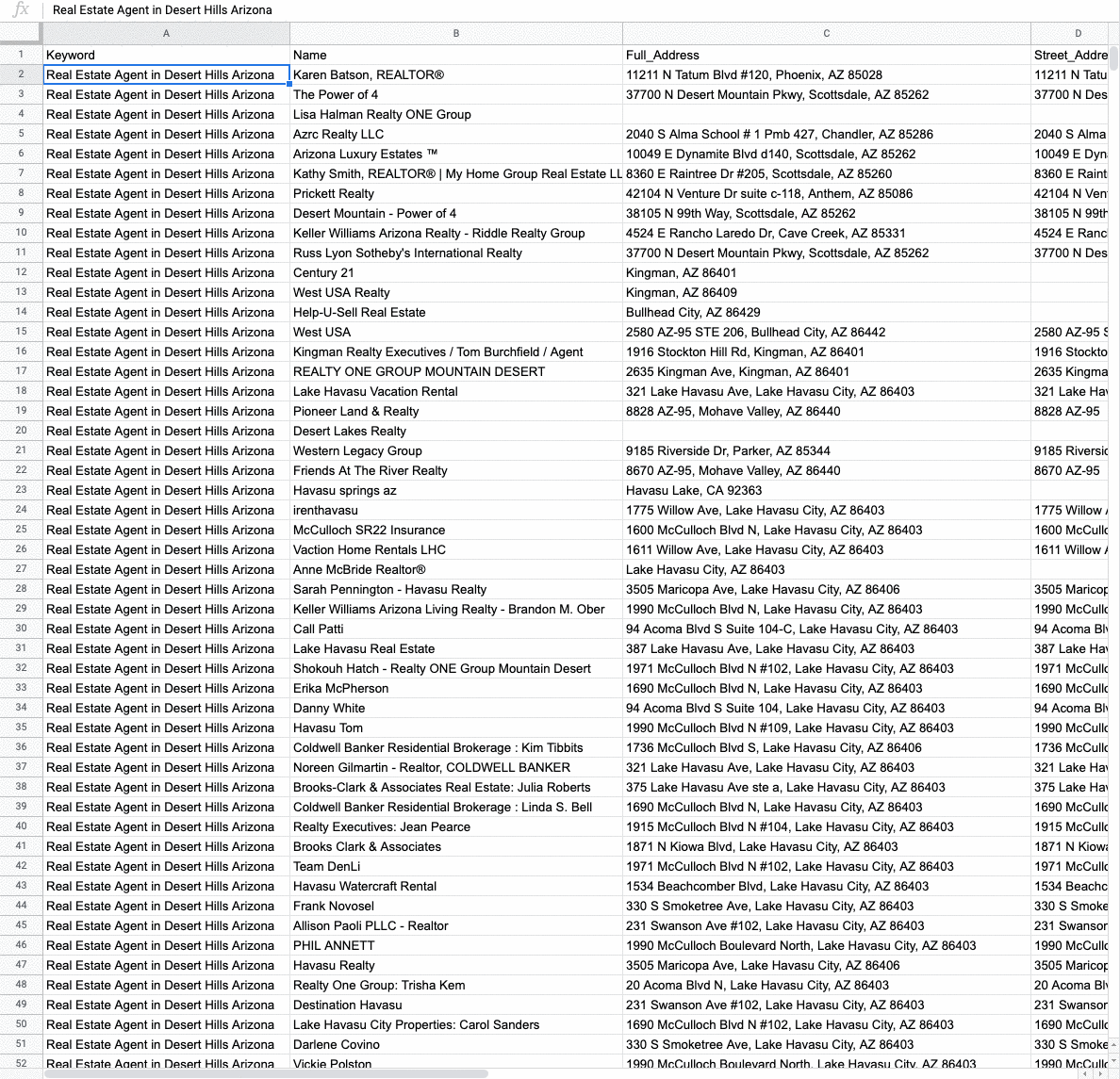 What kind of data are you interested in? Get Pricing.
Or call us directly at 714-786-5169
---
We understand your industry, and we know that at the end of the day- you need results! We compile business cell phone lists comprised of the leads YOU need. Our extensive research paired with our unrivaled data- bring you the best business cell phone lists on the market.
Beyond that, we have numerous filtering capabilities to filter your list down. This ensures that your B2B list is custom-tailored to fit your business needs. Bonus? We don't charge extra for filters. No matter how many filters you apply, its always one flat and reasonable rate.
Business Cell Phone List Filters:
Industry (SIC)
Location (Area, Radius, State, County, and Zip)
Demographics
Behavior
Annual Profits
Years In Business
Company Size
Number of Employees
And Many More!
We utilize SIC to pinpoint specific industries. We also use national yellow and white pages, federal and state public records, and tons of other various and exclusive sources. We pull from more sources than anyone else!
We're constantly updating our database and verifying our information to ensure accuracy. We have the largest and most comprehensive database. Because we're constantly updating, we have the freshest business leads on the market!
Our B2B lists offer 5 methods of contact: cell phone, phone, email, mail, and fax. This optimizes your efforts, and allows you the opportunity to contact your business leads how and when it's convenient for YOU! With 4 methods you can also utilize ALL of your marketing campaigns, instead of limiting yourself to just one!
Start Receiving Your Business Cell Phone Lists Now!
We're experts at what we do! When you sign up with us, your getting access to the experience of an INC500 company! Our unrivaled database is yours through our online portal. You won't find a lead generation company with more to offer!
We understand you may be on a tight budget. That's why we keep our prices shockingly-low. We also know that once you try our business cell phone lists- you'll be back for more! We're confident in what we do, because our accuracy is unparalleled and our track record speaks for itself.
Our Business Cell Phone Lists:
Filtered
Fresh
4 Method of Contact
Accurate
Cost-Effective
Sign up today to get started! Call us up, or fill out the form on the right to get started now!