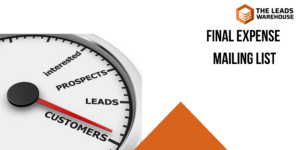 Our final expense lead generation direct mail lists are just what you need to succeed. We utilize proven techniques to generate the best leads on the market. Our final expense mailing data is fresh, filtered, and primed for conversion.
We Pull From Several Sources
Public Domains
Private Data Sources
Paid Contractors
Even Some Of Our Own Clients!
As a result, we have the largest database of final expense lead generation in the market. We also do regular updates, adding hundreds of new final expense leads at a time. This ensures that we have the biggest variety of lead types. It also ensures that our mailing lists are fresh and have the most excellent chance to bring in a huge ROI.
The Value Of finale Expense Leads
Final expense leads are a valuable investment for insurance professionals aiming to grow their clientele. additionally these leads represent individuals who are already interested in or aware of the need for final expense insurance, streamlining the sales process. By purchasing these leads, agents can eliminate the time and resources spent on cold calling or broad-based marketing techniques. Instead, they can focus on tailored outreach to potential clients who have shown a predisposition to purchase. This not only increases the likelihood of conversions but also ensures a more efficient use of marketing dollars. In an industry where time is money, procuring final expense leads gives agents a clear competitive advantage.
Furthermore, we filter our final expense leads to fit your business needs. When you get started, you choose from over 300 unique filters, to help us narrow the scope of your ideal lead type. With this amazing innovation, you can target any demographic and location that you want.
Lastly, We also have incredibly low pricing that are unrivaled by our competitors. If you're looking for amazing final expense mailing lists that will bring you huge profits, you've come to the right place.
Sign up today!
Other relating sources:
final expense and who needs it
 9 reasons to buy final expense
---