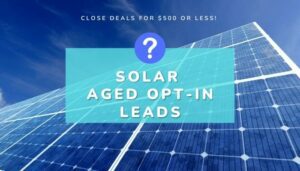 The Best Part Is!
All of our aged solar aged leads have opted in for contact. That means – they're actively looking for contractors, or are at least interested in starting a solar energy conversion, and they're waiting to hear from you! Read out blog post on "Solar Lead Buying Tips" and watch your client base multiply with our solar aged, opt-in leads!
How it's Built:
We pride ourselves on quality products, and this is one of our favorites. This is a full stand alone form fill lead, not a co-reg or incentivized path. Traffic comes from paid search on Google AdWords and other main search engines. The online publisher drives traffic right to the landing pages.
These are Stand Alone Internet Leads (No Co-Reg or Incent)
200,000 a Month: Scalable
CPA of less Than $500 With Our Suggested Approach
Exclusive as aged. You're the Second Person to get them
Products this will work for:
Solar
Mortgage
Home Services
Energy Deregulation (Solar Declines)
Fields:
Outputs (Where Available):
First Name
Last Name
Address
City
State
Zip
Phone
Email
IP Address
Monthly Bill
Roof Shade
Utilities Provider
Jornaya_ID
Trusted Form
Criteria Selects:
Current Client Approach:  
If your team has already worked with aged leads then terrific! If not, then you may want to pick some specific & dynamic team members. Team members who can embrace a "Quality Control" style approach. Imagine crossing voice inflection with a non-salesy attitude. We'll send script suggestions with your leads. Using this approach, you will introduce yourself as a quality control expert who is only calling to see why they didn't sign up. You'll uncover their main concern in 2 minutes, and presto! You can use this ammo to deliver a solution to the client immediately, separating yourself from the rest of the salesman who paid a real-time lead premium!
We also suggest texting, and will provide a texting script with your test file.
Why Us?
There are several reasons that you should choose our solar aged, opt-in leads. Whether you're looking for active job sites or just leads that could result in job sites, we check to make sure all of our solar leads are active. We aren't interested in wasting your time and money – we take pride in providing the highest quality leads on the market.
We offer five different age segments for you to choose from:
1-7 Days
1-30 Days
1-90 Days
1-180 Days
180+ (Legacy) Days
We also offer you four different methods of contacting our solar aged leads. We have phone numbers, email addresses, fax numbers, and mailing addresses. This enables you to reach your potential client in every way possible!
---