MD5 Reverse Encryption? We Have You Covered
Do you have MD5 files that you need reversed? No problem. We're specialists in MD5 reverse encryption. We get your MD5 files reversed back into a decipherable format.
MD5 hashes were developed alongside the emergence of CAN-SPAM regulations and litigations. This method of encryption was created for privacy and transference of sensitive information online. The use of MD5 hashes expanded over the years. Now, this algorithm is used to keep credit cards, phone numbers, web addresses and other sensitive information private over the web.
However, what happens when you need to reverse the MD5 encryption? What if your need MD5 emails appended? How about when you have an extremely large file of thousands of MD5 hash codes that you need decoded? These codes aren't supposed to be fissured. In fact, they're designed to be impenetrable and irreversible.  Don't sweat it, though, we have cracked the code.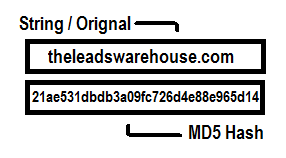 The Leads Warehouse Does MD5 Reverse Email Encryption: 
Quickly
Securely
Cost-Effectively
Don't waste your time with online MD5 hash lookups. These only allow you to look up one code at a time. They're time consuming and often produce incorrect outputs. This sucks up your time, energy, and ultimately, leaves you frustrated.
Why Would I Need MD5 Hashes?  
The algorithm for MD5 codes was created in 1991. It was developed as a security measure for sensitive information online. It also had the supplementary advantage of convenience. There's a myriad of different practical applications for MD5's. Check out the following examples:
A person could compute an MD5 hash for a hefty file. They could then send the file via email.  Once the file was received, the receiver could then, too, create a hash. Then, both parties could compare hash codes to make sure that the entire file was transferred. Moreover, they could ensure the file wasn't corrupted in the process.
The same applies to downloading files off of the internet. You could create an MD5 output for the file you wished to download. Then, once downloaded, you could create a hash to compare. This is incredibly advantageous for web developers.
Sometimes, companies have multiple websites. Each website, presumably, has their own set of email subscribers. To ensure that you weren't sending emails for the wrong list of subscribers, you could compute MD5 hashes for each list. Then, compare and contrast without risking the integrity of the email addresses.
The same aforementioned benefits exist for: phone numbers, credit cards, passwords, and etcetera.
Why Would I Need MD5 Reverse Encryption?
Due to the nature of MD5 hash computation, reversing the encryption is problematic. These codes were developed to be impermeable. In essence, a code could not be decoded back into the original input. So, if you misplaced your file of emails? Traditionally, you would be out of luck. If your file of passwords was corrupted? Again, you'd be without a solution. If your list of client phone numbers vanished? Your MD5 encrypted file would be of no assistance.
The aforesaid scenarios result in the need for MD5 reverse encryption. Essentially, you could recover those emails, phone numbers, or passwords. This has been frustratingly impossible. So, The Leads Warehouse developed a solution.
We use complex mathematical derivations. We also utilize existing online comparison dictionaries. We delve into our own MD5 database. We combine the efforts from all 3 to offer our clients MD5 reverse encryption.
MD5 Reverse Email Encryption: Easy
We recover all of your MD5 hashed emails. The Leads Warehouse respects your security preferences. We expressly ensure that your files are kept private. Your decoded files are returned to you promptly after MD5 email appending.
We empathize with your budget. That's why our MD5 reverse encryption is offered at:
Well below market value
Wholesale pricing bracket
Easy cost per append basis
Let us get your MD5 files looked up and converted to their original format. If you're interested in using our MD5 email append service, please fill out the form on the right, or give us a call now for a completely Free quote!