Your Guide To Buying Medicare Supplement Leads and How To Utilize Them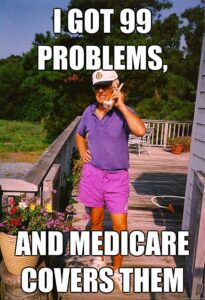 While there are many ways to find new Medicare business, you may be surprised what a reliable and affordable option Aged Medicare leads are. Do you have a well-oiled sales process and great carrier appointments? You are sitting on a gold mine! The key to building your business relies on continuously filling your pipeline with high-quality leads regardless of where they come from.
Are you struggling with your prospecting system (it's okay, we all need help), and are you on the lookout for new opportunities? It might be time to consider buying Medicare Supplement leads so that you can hone in on individuals that raised their hands to get a better Medicare plan.
Here's What You Need to Know About Aged Medicare Leads
When you want to grow your business, you want to be seen in front of people who are looking for what you have to offer. Aged Medicare leads from a reliable and time-trusted vendor might be the turn-key solution. Here we discuss some of the basics with Medicare, and even give you some ideas to help you sell them better!
Medicare Basics
You'll hear Medicare Supplement referred to as Medigap plans because they typically fill in the gaps in insurance coverage that Original Medicare (Parts A and B) beneficiaries are left with. Though Medicare covers many health care costs for those aged 65 and older, it doesn't cover everything. 
More Info
Seniors in the original Medicare program can opt-in to a Medicare Supplement plan during the same enrollment period that they become eligible. However, it's important to note that those who choose Medicare Advantage (Part C) are ineligible for a plan unless they switch to Parts A and B. However, people who have signed up for Medicare and a Medicare Supplement plan can switch to a new plan during the annual enrollment window, and throughout the rest of the year.
As of 2022, there are currently ten different Medicare plans available to eligible Medicare enrollees. See why agents like yourself are so important with so many options? These plans help cover copays, deductibles, coinsurance, and sometimes even hospice care, foreign travel health care expenses, and more. Many seniors also may be missing out on benefits they are eligible for! Sometimes vision and dental are covered. Even perks like a free gym membership come with some plans! I can't wait to be old!
Why Should You Be Selling Medicare Supplement Leads using Aged Medicare Leads?
There are many reasons to sell Medicare Supplement insurance and using Aged Medicare leads only makes it easier. You can only reach so many people through other mediums of advertising – your net should be cast far and wide beyond just direct mail pieces/inbound calls. Not to mention, due to CMS regulations you can't cold call – or to my dismay, creep up behind seniors on the street and ask them about their Medicare plan. They have to approach you (hopefully you're good-looking.) But you CAN set up a booth outside your local Walmart or other areas where seniors gather.
First
Many insurance agents sell Medicare Supplements and Advantage Plans to increase sales during the Open Enrollment period. Adding Aged Medicare leads into your product offerings can help you maintain a stream of new customers to your book year-round. This means you can start to plan your marketing strategies for business all year, rather than scrambling to meet the market demand. Not to mention competition from the carriers is intense during a limited open enrollment period.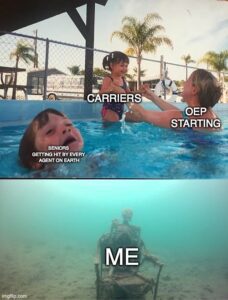 Second
The supplement is a larger market than Advantage plans. Only about 33% of Medicare beneficiaries are enrolled in Medicare Advantage, while the other 67% have (or could have!) a Medicare Supplement plan. People's needs constantly change though and sales is a numbers game. You could show up right at the right time with enough effort. Anyway, as the population continues to age and live longer, enrollment for both Advantage and Supplemental plans will only get bigger. About 10,000 people become eligible for Medicare every day!
You'll likely also choose to sell Medicare Supplement policies because of the opportunity of the potential commissions they can earn with new policies and renewals. Depending on the plan's carrier, these renewal commissions could last for as much as six years or even the policy's life if your client maintains their coverage for longer – which means you can be vacationing in the Bahamas and relaxing off your residuals.
Lastly

insurance agents look for Medicare Supplement leads because they often make more sense for their clients than a Medicare Advantage plan. For example, they could be a better fit for seniors who travel, enjoy their hobbies, and have their finances in order. Medicare enrollment has increased dramatically over the years. See the stats in the image below.
Okay great, but what carriers should I sell with?
We're glad you asked.
Let's start to take a look:
Cream of the Crop: Mutual of Omaha
Best Experience for the User: Humana
The Best Pricing: AARP
Best Medigap Coverage: Aetna
Discounts for Multiple Policy Holders: Cigna
Mutual of Omaha:
Everybody loves MOO! Good ol' MOO has been in the supplement space since 1966, so they know what's up. They are also owned by their policyholders. So your client can feel comfortable knowing they're in less greedy hands. 98% of claims are also paid within 12 hours! That's almost faster than we deliver our in-house Aged Medicare leads!
Also, they cover all 50 states and offer part A, F, HD-F, G, N, and Part D (prescription drug coverage.)
MOO usually only allows an agent to provide a quote, so a selling point to a client is that you have carriers that they can't easily access on their own.
Finally, if you have your spouse on your plan you can get up to a 12% discount!
Humana
They're a household name at this point. With 13 million customers nationwide and the third largest health insurance provider in the US. Even though the BBB doesn't have the same teeth as it did many years ago, Humana has an A rating which is quite amazing for such a large company.
A HUGE benefit is 24/7 access to a nurse, so more fragile clients may like that. In addition, they offer discounts on eye exams, weight-loss programs, massage therapy (okay, sign me up!), and OTC medications.
The plans they offer are A, B, C, F, HD-F, K, L, and N in all 50 states.
Aetna
The 800-pound gorilla of Health Insurance (much like we're the 800-pound gorilla of aged Medicare leads) that was founded in 1853. The big advantage is Aetna allows your clients to see any medical professional that accepts Medicare. They also cannot cancel coverage because of health conditions.
Aetna also offers a 12-month rate lock, ensuring premiums will not increase in the first year of coverage.
Clients can also cancel within the first 30 days and receive a full refund.
Cigna
Cigna offers plans A, B, C, D, F, High-Deductible F, G, and N in all 50 states while serving 95 million customers. Seniors are free to use any health provider who accepts medicare. They are able to offer supplement insurance options that are outside of traditional medicare such as cancer treatment coverage, accident expense, heart attacks, and strokes.
Cigna also offers a 7% household discount when additional seniors are enrolled in one of its Medicare Supplement plans.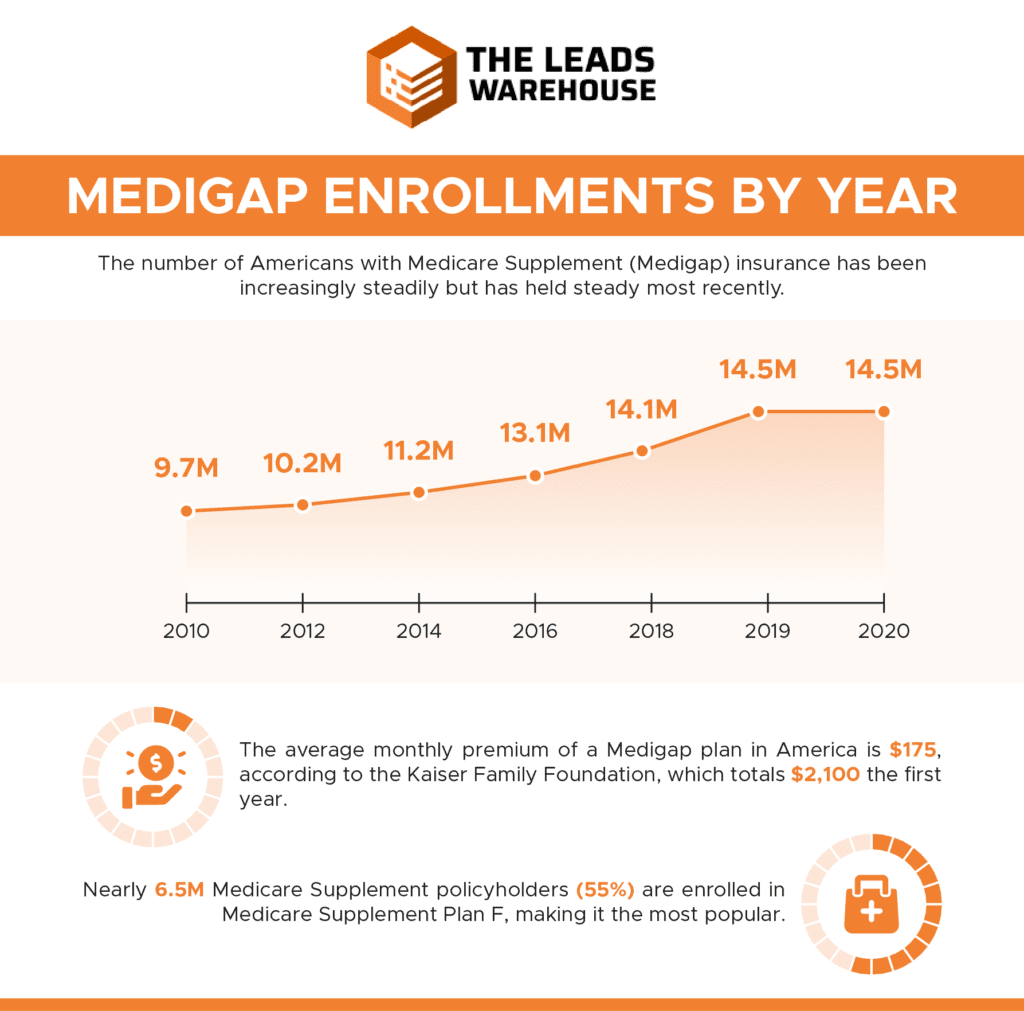 Tips For Selling Aged Medicare Leads
Now that you know why selling to Medicare leads is a good idea let's talk about your sales strategy. First, you'll want a fully diversified portfolio of product options/carrier appointments. (Pro Tip: The best Medicare supplement carriers are: Mutual of Omaha, Aetna, Cigna, Humana, Anthem BCBS, TransAmerica, Lumico, and Annex). This will allow you to be the go-to insurance agent because you truly will have something for everyone. You'll likely have a combination of healthy clients, not-so-healthy clients, rich clients, poor clients, and everyone in between. Finally, premiums, discounts, features, and benefits really vary between plans.
These plans also give you more options in terms of your timelines. You can always work with Annual Enrollment leads and capitalize when the market is hot. You can also work with seniors aging into Medicare (Turning 65/T65), or those who already have Medicare looking to switch to a new plan. 
More Tips
Though you'll be working on your lead generation. It might also benefit you to purchase aged Medicare leads like ours from The Leads Warehouse. It's an affordable way to grow your database and filter. Based on the states/zip codes you service – all year long and not just during open enrollment.
You can even send them a business card in the mail! Clients also LOVE when you remember their birthday, I would recommend MailboxPower for this!
Contact us today to learn more.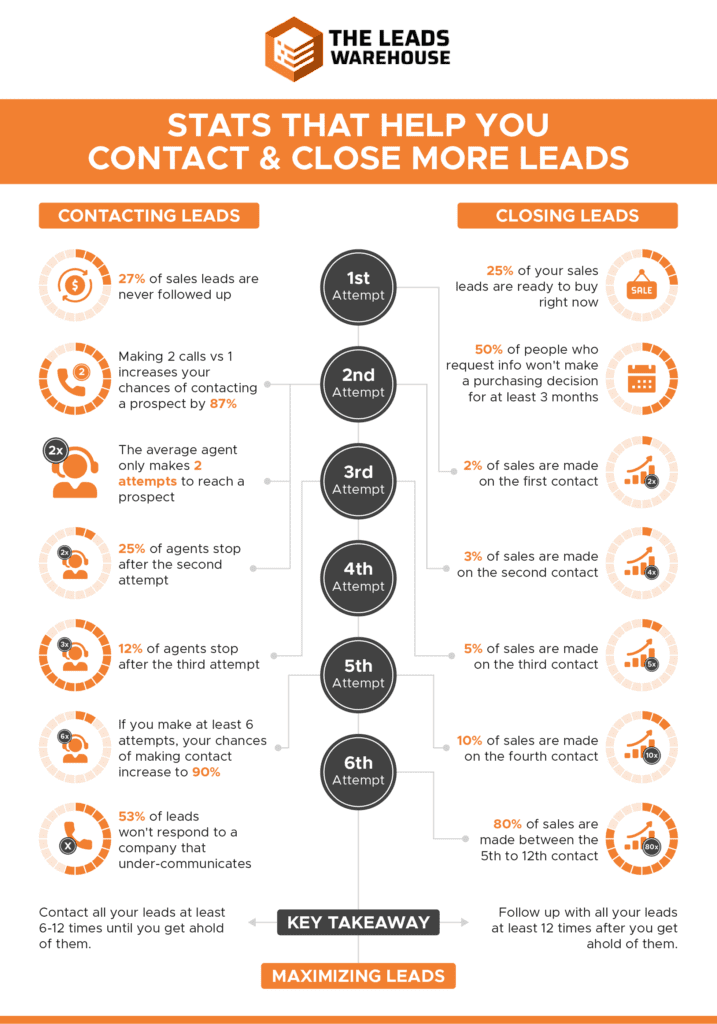 Final Thoughts on Aged Medicare  Leads
Nearly 10,000 people turn 65 in the United States every single day. So now is the time to start closing on those Medicare  Leads, particularly if you're already utilizing quality and affordable lead sources like the ones we offer at The Leads Warehouse. 
Don't miss out on this tremendous opportunity to grow your business and get your information in front of people who are primed and ready for it. Remember, today's Medicare leads aren't your typical baby boomers. Instead, they are more tech-savvy, have genuine questions they need answers to, and aren't going to respond to hard sales. These leads are optimistic about the future, but they want to be covered and informed of their options. You also need to build trust as seniors are regularly targeted for scams and may be skeptical when they first hear from you.
Let us help you fill up your pipeline with qualified leads that can help you boost your sales and increase your ROI. Learn more about our Medicare  Leads here when you're ready to get started.
---